Rebecca from Molly Coddles Kitchen sent me a 3 month sample pack of her new Stud Club subscription available from her etsy shop. I'm already a fan of Rebecca's earrings and I own a pair of every colour of the lego studs and a set of lego head studs with aviator glasses.
This is what my 3 month package looked like when I opened it. All colourful and labelled up for each month with stickers and tapes on the front.
Inside each pack was a printed letter giving me details of stud club and a discount code for inviting a friend to join up too.
My January pack came with a set of lilac bows on clear plastic stems, great for those who have reactions to certain metals used on earring posts, and a set of small metal spike earrings. There was also a little bonus sheet of stickers to play with too.
I pinched some photos from Rebecca's etsy shop so you could get a better view of some of the earrings I received.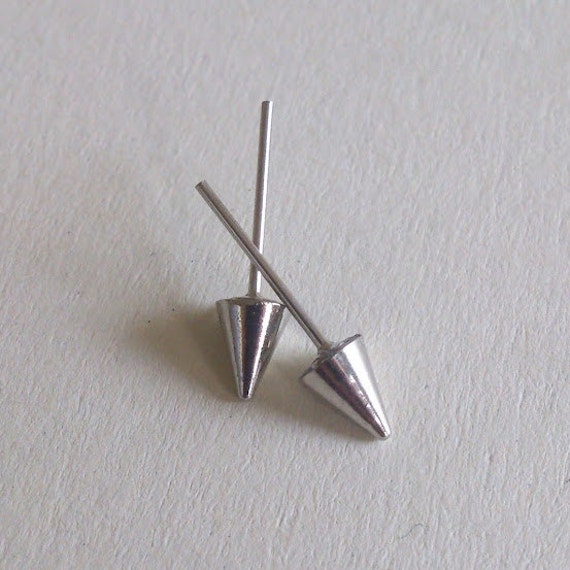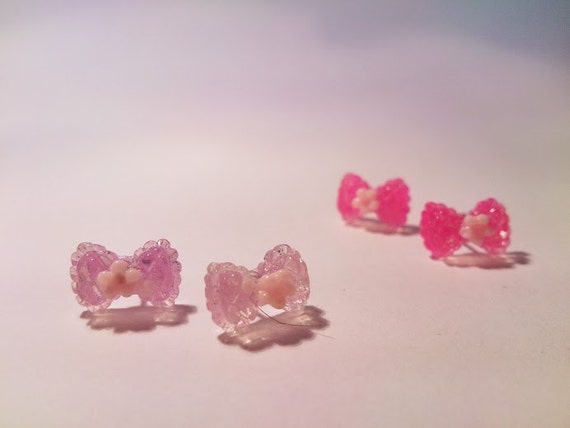 For February I got 3 pairs of lego stud earrings, love them, total fan and as I mentioned already I own a pair of these in every colour. These are now my spares as I'm bound to lose a pair or the odd earring at some point. Rebecca does say in her printouts that you can/should give the earrings as a gift if you already have a pair you receive but I like these ones too much to share lol. There was also a pack of love hearts in the Feb pack as a Valentines gift.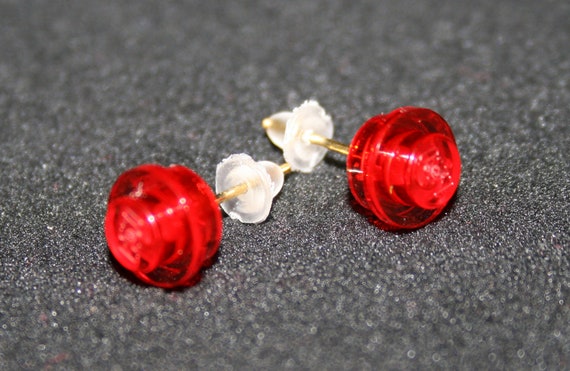 The March pack was a chunky one... Not only were there 2 pairs of earrings there was a button ring too. The turquoise roses were my favourite pair from the 3 mystery packs...so much so I wore them for days and days and sadly lost one, so I'll be ordering another set when they get listed in the etsy shop!
Here's a pic of the cute little teddy studs, I struggled to get a good pic so I've used one from etsy again. Rebecca has a variety of cute little animal studs like these, I also really like the little frogs she has listed in her etsy shop.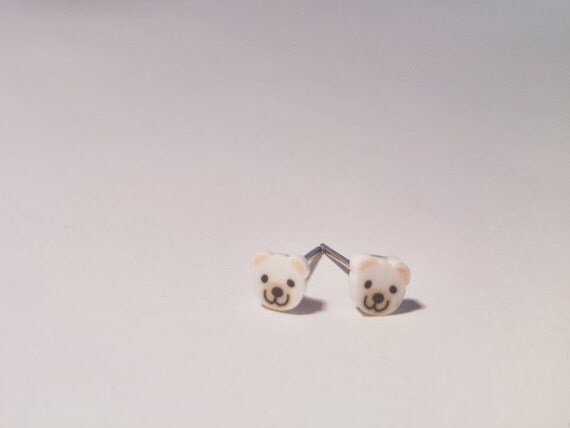 I only changed one thing about the earrings from how they were delivered and that was swapping the butterfly backs for tube style backs. That's just my personal preference as I regularly lose butterfly back brushing my hair or at work then I lose the earrings.
I think Stud Club is a great idea for anyone who likes quirky, unusual earrings that you don't pick up in main street shops and would make a wonderful present for someone too. £11 for 6months or £22 for a year really is a bargain!